Tuesday SHOKO – ERASMUS DINNER & BASIC B*TCH & F*CK BOY PARTY (BY SHAZ LIST)
March 28, 2023
ERASMUS DINNER & BASIC B*TCH & F*CK BOY PARTY AT SHOKO by Shaz List
We would like to invite all new Erasmus and International Students to our Erasmus Dinner and  Party at Shoko Barcelona.  Students from all universities & nationalities are welcome.  Watch Party Video
Join us with all your friends on Tuesday at Shoko. Come for one of the best nights of your Erasmus Semester.
With Shaz List, you'll get this offer:
DINNER
From 22h,
FREE Dinner with 2 drinks from 22:00. Sign Up Here
Fill out the form and say Shaz List at the Entrance
Basic B*tch & F*ck Boy PARTY
From 00h, If you or your friends can't join us for dinner, then come to the party.
Free Entry with Shaz List till 02:00 (normal entry is €15)
Say Shaz List to enter with all your friends
Find your Basic B*tch & F*ck Boy
Dress like  Basic B*tch & F*ck Boy and get ready for an action
Kiss and Shot Game, Get a free shot if you kiss someone when plays our theme song
Discount on drinks all night long (4€ shots, 5€ beers, 10€ long drinks)
Free bottles of vodka (first come first serve) to birthday groups or to groups of well-dressed girls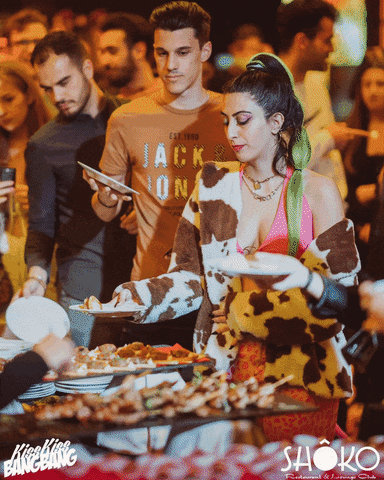 What kind of music?
Commercial, Reggaeton, Hip Hop
Where?
Passeig Maritim de la Barceloneta, 36, Barcelona (see map here)
How can I get there?
The nearest metro stop → Ciutadella Vila Olimpica
⚠️ 18+, dress code: smart & elegant
Questions? Ask us here +34663362087
Important: Don't forget to say "Shaz List" at the entrance or you won't get these offers. We are so excited to party with you!
We know you are going to have fun, and we hope to see you soon again at one of our events!
Get more info about our other parties and trips here! We have some almost every day, don't hesitate to join us in our other events, we would love to see you again.